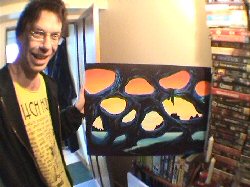 Dick - vocals
Eight years after Gaffer Tape comes Underwater Overground, being the further adventures of punk-ska band Citizen Fish, on and off stage, as they tour in the UK, the USA and Europe.

Jasper has been busy again with his video camera as the band toured England and Wales, the USA (four different tours), the Czech Republic and Poland, with other bands including Leftover Crack, Sainte Catherines, Witch Hunt, Intro5pect, Prague Ska Conspiracy, MDC and Subhumans.

Filmed mainly by Jasper

Edited by Pete Isaacs & Jasper Pattison

Running time: 1 hour 3 minutes

Underwater Overground was released on DVD by PM Press in March 2009.

The DVD also features Gaffer Tape plus 48 minutes of Extras including 10 'live' songs and a radio interview with Citizen Fish.

Watch Underwater Overground trailer
"....this is a real road movie (or rather two) featuring the actual band driving, carrying equipment, playing their music and being themselves all around the globe.... the pace is never slow (reflecting life on tour I suppose) and the band themselves never lose their senses of humour and humility. All of which makes this a document of something authentic, organic, unmanufactured and real. Grab your copy at www.citizenfish.com today."

Eddie Thomas for SUBBA-CULCHA


"'Underwater Overground' is a genial insight into the life of hard-gigging punk ska band, Citizen Fish. It's also an inspirational demonstration of the ability to tour all over the world using the bare minimum of cash with a DIY network of likeminded enthusiasts employed as drivers, promoters and screen printers. Gigs are played in dingy basements, small town bars, churches and niche festivals. Sometimes they're heaving with mohicaned punks and sometimes, like the segment wryly captioned 'Big In Yugoslavia', it's playing to three people in a vast empty auditorium. Throughout it all the band seem unbelievably chipper. There's lots of bleary-eyed early mornings, loading and unloading and people snoring in sleeping bags in the back of the van. But it's not all glamour. We get a whistle stop tour of Warminster, the highlight of which is the chip shop Crème De La Cod. Viewers should be warned there is footage of pasty-fleshed punk rockers cavorting in the sea in blazing sunshine. The DVD features generous footage of the bands they play alongside, big and small. It's proof that Punk Rock has created an international community of shared values because everyone they meet on their travels through America and Europe, however ferocious on stage, seem really nice.
'Gaffer Tape', a tour of the USA ten years earlier, features everyone looking slightly less raddled. (Indeed, Jasper's bass guitar appears to be only slightly wrecked in this film.) Dick also provides a cogent explanation for the band name, Citizen Fish, immediately afterwards admitting he only worked it all out a long time later. Lots of footage is recorded through, ah-ha, a fish-eye lens. We watch a tour of France and a gig in the frankly unconvincing town of Miltone Queynes. In 1996 they even toured Australia. It all looks astonishingly gruelling and amazing good fun. At the end Dick explains his philosophy and it's worth repeating here. 'Go DIY, do it yourself. Don't let anyone think for you. If everyone's basing their lives around having a holiday once a year then something is wrong. Life should be a holiday, interrupted by occasional work. Work and play should be mixed together and be redefined as one lifestyle thing. Luckily Punk Rock came along and saved my life, let it save yours, folks.' Treat this DVD as a manifesto for having a great time, all of the time."

Kid Pensioner of VENUE magazine